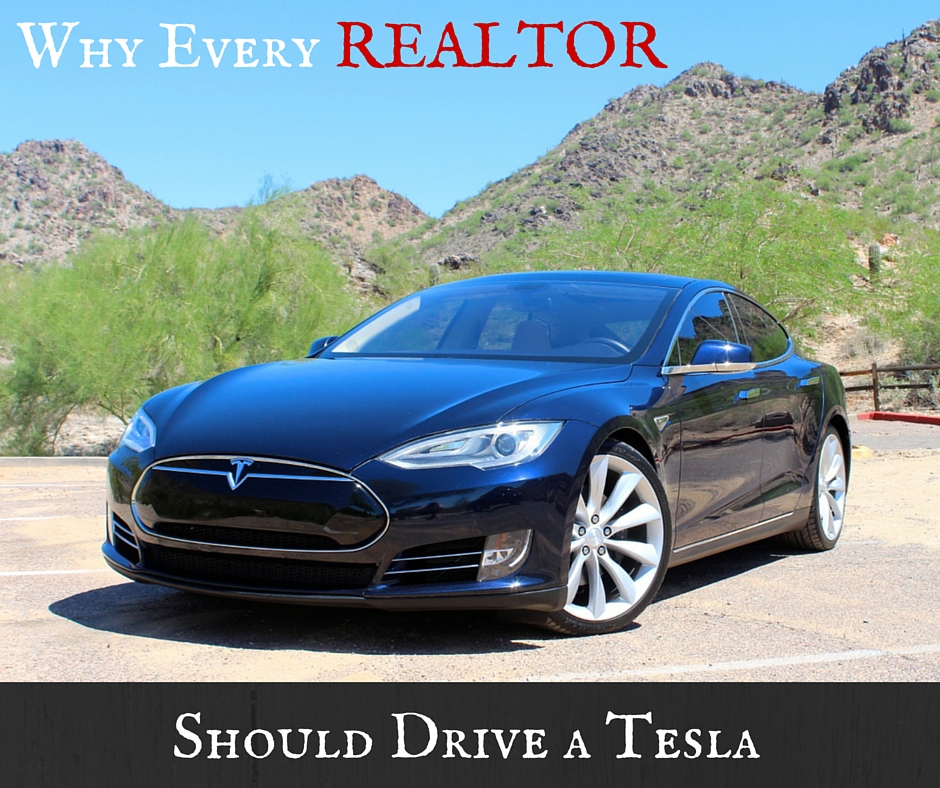 Realtors rely on their cars not only for performing their job and driving clients around, but to make a statement about who they are.
Agents have been known to spend top dollar on Mercedes, BMWs & Cadillacs all to help craft the image that they are successful.
While most high end cars will do that, driving a Tesla not only implies you're a successful Realtor but does much more.
Driving a Tesla says:
You are technologically advanced.
You care about your community and clean air.
You buy American – this shows your loyalty.
Not only is your car American made, so is the electrical energy. No more funding the terrorists.
You care about your passengers – it's the safest car ever tested.
You are a successful agent, yet practical – it's more efficient than a Prius.
Benefits to you as a Realtor:
It's an incredibly practical car. That's what blew me away almost as much as the fun of driving it.
Even though the Tesla is faster than most Porsche's, remember it's a 4 door that fits 5 adults comfortably. Need storage room? Where other cars have engines, the Tesla has open space. The front trunk offers lots of space and there's plenty of room in the back for signs, posts, golf clubs etc, without even folding down the back seats. Want even more space? Fold the seats down you've got enough room to carry bikes,  a huge TV, or even a twin size mattress.
You wake up with a full charge every morning. No more wasting time or money at a gas station.
The GPS Navigation system makes giving tours a breeze. Just say the address into the navigation system and it will guide you there. You can focus on the client…not the directions.
All the new Teslas come with AutoPilot features that vastly increase safety and will eventually let the car drive itself, allowing you to catch up on emails or focus more on your clients, etc as you commute. It's still a ways off before you can fully disengage attention, but it will happen and it will increase your safety & productivity, and lower your stress on the road.
The large 17″ screen controls the car and can show your website, or the list of houses you want to see on your tour.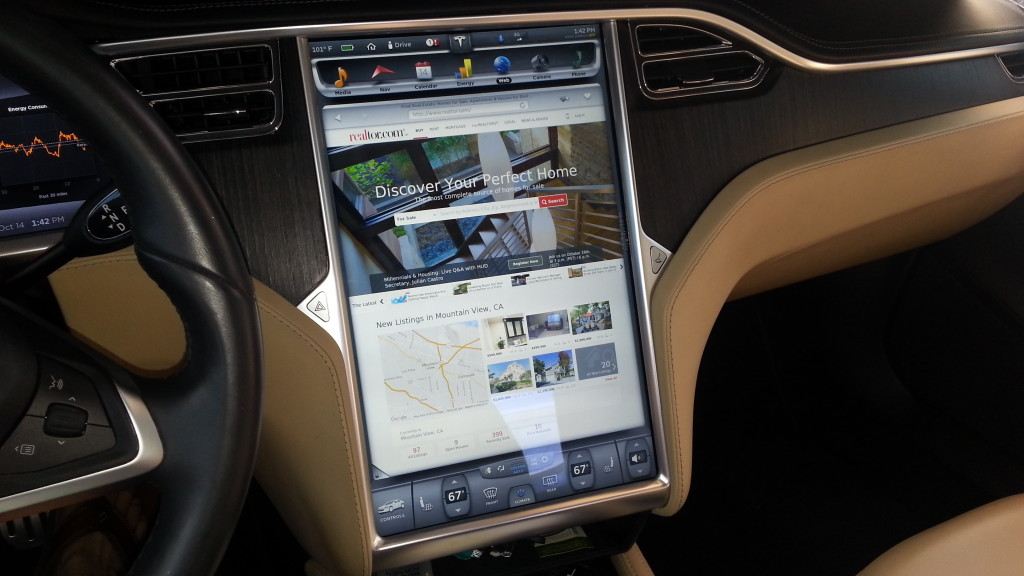 It's a conversation starter.  Realtors understand the need to always be meeting NEW people. Nothing gets more questions or attention than a TESLA. Just be ready, always have your cards handy and don't be afraid to give someone a test ride. They won't forget you.
Need a marketing edge? Use the Tesla to stir up business. Offer rides in the Tesla to see new homes. Brand yourself as the "Green Realtor" if you are authentically interested in that. Don't be afraid to put a professionally designed logo or web address on the car. Please – no tacky "door magnets" as those won't stick to the all aluminum body anyway. A professionally designed web address on the bumper or door can dramatically increase calls and awareness in your market. Just make sure it doesn't degrade the look of the car.
Some Realtors will argue that you don't want to have too nice a car, as it can be off putting to some clients. To me, the Tesla has the perfect combo of appeal coupled with an understated yet sexy style. It's not ostentatious like an Italian sports car or an Escalade with blinged out wheels. This feeling is also offset by the fact it's also just as practical and green as a Prius or Subaru.
What Realtors should NOT get a Tesla?
Maybe if you are a Realtor in west Texas who only deals with Ranches and Horse Property, you might want to stick with your pickup and boots to be true to your market. But for a large percent of Realtors, a Tesla would be the perfect car for you.
Common Questions about a Tesla:
How far does it go on a charge?  If you get the 85 or 90 Kwh battery (which I highly recommend) it will get 250+ miles on a charge. The great part is the "gas station" is in your garage.  You just plug it in at night like you would a cell phone and wake up with a full charge every day. There are also a quickly growing number of public chargers available in every city that you can access if needed, some are pay to use but many are free. While charging at home it's typically less than $10 for a full 250 mile charge.
How long does it take to charge?  Typical home charging can take 1 to 8 hours to fully charge your Tesla…but since this is all happening while you sleep, it doesn't really matter.
Concerned about winter driving? Don't be. The 4WD Tesla is one of the surest footed cars on the road. In fact the Tesla was the best selling car in icy Norway even before the 4WD version was even available.
What about Road Trips?  No problem. With the Tesla SuperCharger network, you get FREE access to the nationwide system that Tesla is rapidly building out. These super fast chargers can fully charge your Tesla in 30-45 minutes, quicker than it takes to grab lunch.  In fact, I just completed a 27,615 mile road trip in my Tesla this summer. All for free. If you happen to live near a SuperCharger you are really ahead of the game, but it's not needed to still make sense.
What if something goes wrong? Tesla's warranty is 50,000 miles / 4 years on everything plus an 8 year Unlimited Miles warranty on the drive train and battery. Keep in mind, there is much less that goes wrong with a Tesla. There is NO transmission. NO oil changes. NO radiator. NO spark plugs. NO muffler. You get the idea. Consumer Reports also gave the Tesla the highest score it's ever given to a car.
Considering a Tesla Model S?
If you are seriously considering a Tesla, you can save $1000 by ordering before Dec. 31st, 2015.  The Tesla Referral program gives $1000 off a new Tesla by using this link  If you are in the Phoenix area, I'm happy to give you a free test drive before Dec. 31st.
Options you MUST get if you are a Realtor
The Panoramic Sun Roof – Not only is the sunroof great for you the driver, it actually adds 2 to 3″ of headroom in the back of the car. This is important if you plan on driving clients around and want to ensure their best experience.
At least the 85 kWh battery – You don't want to skimp on the range even though most days you will never need all of it. It will also help the resale if you ever sell it. Avoid the 60 or 70 kWh versions.
All the other options are purely based on where you live and your own personal needs.
Want to test drive a Tesla for a day or two?
Rent a Tesla on Turo…I have mine listed in Phoenix AZ but they are available in lots of markets to rent for a day or two before buying. This is a great way to decide if a Tesla is right for you.
Use this link to find a Tesla Rental  in your market.