The Referral Program offers a Free SuperCharging for Life on a new Tesla Model S or Model X SUV.    Let me know how I can help you own a Tesla!  
I can offer you Free Lifetime SuperCharging on a new Tesla if you use Tesla Referral Code  TeslaRenter.com/Save to order online.
You can also use the code "Steve1939″ if you walk into a Tesla Store or work with a person over the phone.
Why Buy a Tesla?
Easier & less expensive than gas.  Plug it in every night, wake up with a full 250 mile charge! It's like having a gas station in your garage. Better yet, it only costs about $7 to fill it up.
Free SuperCharging – There is no better Road Trip vehicle than a Tesla if you like traveling for FREE.
Federal and State Tax Credits – The Federal credit is $7500 and the state credit varies from zero to $9500.
Free HOV Lane usage in most states. This is a huge time saver on your commute to work.
AutoPilot – Yes, the Tesla can now drive for you when you choose.
SAFETY – It's been rated the safest car ever tested. Isn't your family worth protecting?
FUN – This car in Ludicrous Mode is the fastest production car on the planet 0 – 60!
PRACTICAL – It's a 4 door, with as much cargo room as most SUVs, including a front and rear trunk.
50,000 Mile / 4 Year Warranty on Tesla plus 8 year UNLIMITED Mile warranty on the Battery & Drive Train.
Low maintenance vehicle – No transmission. No oil changes. No radiator. No tail pipe. No emissions checks.
Info & FAQ about about the Tesla Referral / Discount Code
1) How do I get the Free Supercharging on a New Tesla?  Simply click this link:  TeslaRenter.com/Save  which will take you to the Tesla order page online. Yes, you order your Tesla online!   Design your dream Tesla and order the car!  If you end up starting over several days later, just be sure to re-click on the code above before you actually purchase the car.
2) How long does this Tesla promotion last? The referral program comes and goes so we never know if this will be the last time it's offered.
3) Do I still get the $7500 Federal Tax Credit? Yes, you still get all the same federal and state tax credits.
4) Does the offer also work with a Lease? Yes!
5) Does the Credit also work on "Tesla Inventory" Cars? YES! However, it does NOT work on Used Teslas.
Why Use My Referral Code?
1) I'm here to answer any questions you have! Call/Text me at 602-628-3500 or email me – stevesasman at gmail.com
2) I've gone on the longest Tesla Road Trip ever, with 27,615 Miles, in over 4 months hitting all 48 States and Canada during the summer of 2015. I visited a record 200 Tesla SuperChargers and  interviewed other Tesla owners on video at the chargers. I even camped in the back of the Tesla about 20 times out of the 132 days on the road. It's safe to say, I know this car inside and out! Check out my website for the trip:  MillionDollarTeslaTrip.com as well as my Instagram with lots of great photos all over the country.  I also wrote "How I Used & Abused My Tesla – What a Tesla looks like after 100,000 Miles, a 48 State Road Trip, 500 Uber Rides, 20 Rentals & 2 AirBnB Sleepovers."  which was tweeted about by both Tesla and Elon Musk himself.
Additionally, I now own both a Model S and a Model X, meaning I can help you decide which one is best for YOU!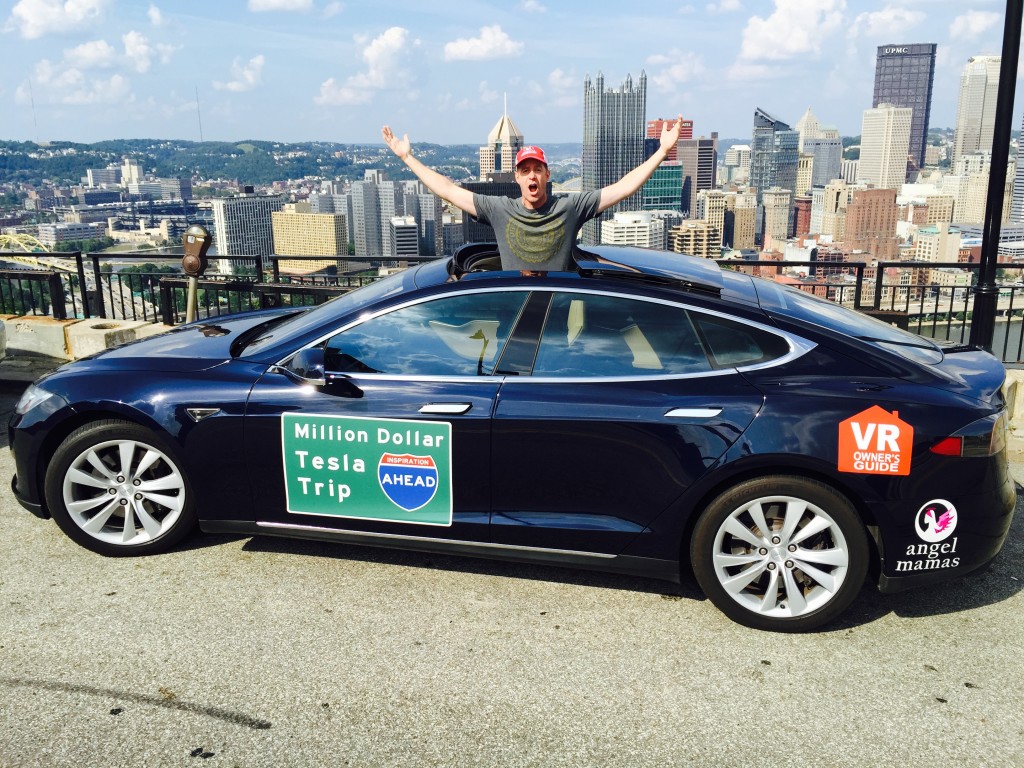 3) If you are in the Phoenix AZ area, let me know…I'd be happy to give you a test drive. Or you can also rent out my Tesla for a day or two on Turo.com if you really want to see how it fits in your life.
Thank you for using my Tesla Referral Discount Code!  Please let me know when you order so I can thank you personally and help you along the way as you learn about your great new car.
Keep Driving Forward,
Steve Sasman